Christine Ricci
Vice President Marketing, PR & Strategic Alliances
Business Development
" At B. E. Smith, Christine Ricci is recognized for her ability to effectively lead, communicate and drive results across organizations. "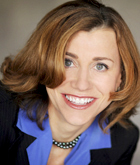 At B. E. Smith, Christine Ricci is recognized for her ability to effectively lead, communicate and drive results across organizations. Her successful track record includes building and directing organizations to achieve increasing profits, cost reduction and expanding market share. With her extensive corporate strategy and operational experience, Ms. Ricci has initiated key healthcare service programs to ensure a high level of customer service, resulting in increased revenue and market share. Christine Ricci's strong expertise in marketing communications, advertising, media planning, direct marketing, mass marketing, brand development, interactive communications, international marketing and public relations has assisted Ms. Ricci in driving strong results in healthcare organizations. Ms. Ricci has led in the implementation of several comprehensive marketing and public relations programs to increase admissions and consultations for healthcare organizations.
Prior to joining B. E. Smith, Christine Ricci led the planning for marketing, sales, and product organizations within International Fortune 100 companies. Well versed with planning and communicating to boards and industry analysts, Ms. Ricci has managed transition teams and assisted with the planning for consolidation of operations between acquired healthcare facilities, resulting in reduced expenses by consolidating departments across merging healthcare organizations, and establishing communication and operations linkage between organizations. Experienced in all aspects of new business development, including economic analysis, negotiations and management of the new business development opportunities, Ms. Ricci has consulted with healthcare organization on re-engineering systems, methodologies and processes, resulting in improved quality of care while reducing expenses. She has also directed large teams of healthcare professionals on surgical, medical, burn, coronary, heart-lung transplant and transitional intensive care units.
Christine Ricci is a Registered Nurse with a Bachelors of Science and a Masters Degree in Business Administration with emphasis on Management Information Systems. Ms. Ricci also participated in the University of Chicago Leadership Curriculum and was a Division I Volleyball Athlete and Team Captain.