Erika Rosenberg
President & Chief Executive Officer
" The CGR Board selected Erika Rosenberg as the organization's President and Chief Executive Officer in June 2019. Ms. Rosenberg joined CGR in 2005 after a career in journalism covering state and local government, and education policy and urban schools. "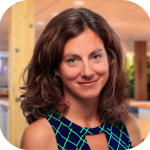 Erika Rosenberg's primary focus is helping clients and communities make meaningful use of data to drive productive discussions on performance and think strategically about how to achieve positive change. She has extensive knowledge in areas encompassing education, program evaluation, strategic planning, and state and local government. She has authored statewide policy reports on topics as diverse as workers' compensation and pork barrel spending.
Ms. Rosenberg has led a variety of projects focused on youth, including an implementation evaluation of the first year of operation of small schools opened within an urban school district, and assessments of summer youth employment, youth recreation programs, and the feasibility of an early childhood scholarship program. Good government is another focus area, with projects examining the role of local development corporations and conducting an experiment in independent redistricting, using a politically blind process to draw hypothetical districts for a county legislature. She also played a major role in researching and managing CGR's award-winning study on the future of public nursing homes in New York State (case study).
Prior to joining CGR in 2005, she worked for Gannett News Service in Albany, New York as a statehouse reporter, where she covered an array of public policy topics. While with Gannett, she was responsible for reporting on state politics and government for nine dailies, including news organizations covering metropolitan Rochester and Westchester, New York. During her years in journalism she also covered education, mental health, immigration and voter registration issues for newspapers in Rochester, New York and Little Rock, Arkansas.
She earned her B.A. degree in journalism from the University of Illinois at Champaign-Urbana.