DAVID GRAY
Founder
" Fifth Wheel Street, the brainchild of former full-time RVer Dave Gray, saw a need that was not being satisfactorily met and now provides over 200 web pages and documents of safety information and calculators for all recreational vehicle classifications. "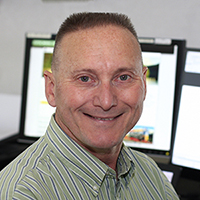 After working through the night, Dave's website debuted on the morning of April 18, 2011. Initially, Fifth Wheel Street was geared to support fifth wheel trailer owners. Today, the website provides over 200 web pages of articles and documents of safety information for all recreational vehicle classifications.
Dave has developed three essential weight safety calculator apps for recreational vehicle owners, buyers, and dealers. They are RV Tow Check, RV Weight Safety Report, and Conventional Trailer Weight Safety Report.
During Dave's career path in the U.S. Army, his occupational jobs included Metal Worker Specialist (44B), Fire Direction Control Specialist (13E), Chaplain Assistant (56M), and lastly, he retired as a Decentralized Automated Service Support System (DAS3) Repairer (34C), a mobile mini-mainframe computer system built in a 40-foot trailer.
After Dave's military retirement, he went on to work for Loral Space and Range Systems, Vandenberg AFB, California as a Field Technician (Satellite Tracking Operations & Maintenance), then onto Delco Electronics, Goleta, California, as a PC Technician for about a year. Lastly, he retired from the US Postal Service (USPS) at Goleta, California, as an Electronics Technician (PS9/P).
Due to Dave's strong analytical research skills, he received numerous monetary awards for equipment and operational improvements. Throughout Dave's career path, he received hundreds of hours of safety training covering a broad spectrum. One of Dave's career highlights was when he was recognized and received the US Postal Service Pacific Area Safety Award on the Dodger Stadium infield before the game.
Dave has written and contributed RV safety articles to the Escapees Magazine and Heartland Highlights. He has been a guest speaker at RV rallies. Several times, his press releases were published in the RV Daily Report and the RV Business publications. April 2016, Dave was interviewed for podcast number 98 by Greg Gerber, editor, and founder of RV Daily Report.
Dave loves the line in Hidden Figures by Katherine Johnson, played by actress Taraji P. Henson—"Numbers don't lie." In his career experience, he learned that it is evident that applied mathematics will always uncover the truth.