Suzi Lewis-Barned
Senior writer
" Suzi is the senior partner at Lewis-Bamed & Associates and leads our medical and healthcare copywriting. As the former editor of a company staff magazine, Suzi is also our main contact for intemal comms work. "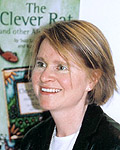 Suzi is the senior partner at Lewis-Bamed & Associates and leads our medical and healthcare copywriting. As the former editor of a company staff magazine, Suzi is also our main contact for intemal comms work.
"After graduating from Bristol, I worked for the BBC and subsequently ITV as a radio and TV researcher on a wide range of health, lifestyle and children's programmes. I worked with some fascinating people including Marjorie Wallace, Suzanne Dando, Rolf Harris, Bill Oddie and George Melly.
"Working as a freelance journalist I was also a weekly contributor to The Radio Times and Bristol Evening Post and wrote health features for various national healthcare and lifestyle publications.
"Today my focus remains writing for clients in the healthcare and lifestyle sectors. For the past 15 years I have been working for a variety of business clients on all aspects of communications, both internal and external, from writing and editing staff magazines to writing pieces for intranets and developing content for websites.
"At the other end of the spectrum, I am also a published children's author (see www.africatales.co.uk) and have written booklets and other material for teenagers and young people."