MYSHCHIF Spencer For Hire
Entertainer, Recording Artist, Actor & Comedian
" MYSHCHIF's 1st. solo/independent single; "Doin It Movin" is Now! @ iTunes, Myspace, Napster, Nokia, Zune &More!!! Also get Free*MYSHCHIF custom ringtones for your PockerPhone @ FunForMobile from your PocketPhone. "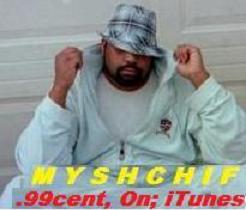 MYSHCHIF, is an R&B/Rap recording artitst from the northern California BayArea. Born & raised in the same hometown as hiphop/rap legend; Mac Dre (r.i.p) & the chart topping/record breaking group E-40 & The Click. On his 1st. solo/independent album titled; "Spencer For Hire" MYSHCHIF combines r&b melodic tones, catchy hooks, phrases & rap lyrics that lives up to the level of talent & original creativity that Vallejo, Cali's artist's are known for. MYSHCHIF will get all up in yo; Speakers with songs such as; "Speakerz", "...And~Stuff",
"Jump Off The Curb", "Doin It Movin" & "Do You Think So"(which is the title of the 2hr.dvd that will be included*Free*)with a limited number of albums. (2011)
*We Encourage, Promote & Support All Independent Artists*
MYSHCHIF,
Myshchif7@yahoo.com
Thank You!, AndStuff!
MYSHCHIF Spencer For Hire
Entertainer, Recording Artist, Actor & Comedian
MYSHCHIF of; EnterPaTrayMent

Phone:
(707) 712-0903

Address:


United States

Areas of Expertise:
Writing Musci/songs
Recording Music
Entertaining