Jean Holloway
Managing Partner
Author Services and Business Development
" Jean's debut novel "Ace of Hearts" started in 1980, in answer to a bet, yet it wasn't published until 2007. Her story's moral: Never give up your dream. "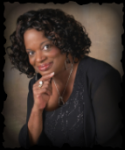 The daughter of an entrepreneur, Jean Holloway saw the only limitations you have are the ones you put on yourself. In the early 60s, her father owned his own cab in NY, which was unusual for a Black man armed with a tenth grade education.
Jean's debut novel "Ace of Hearts" started in 1980, in answer to a bet, yet it wasn't published until 2007. Her story's moral: Never give up your dream.
Jean now lives in Kennesaw, GA with her husband, Fred and their dog, Kayla. Their six grown children all live nearby. They have eight grandchildren and two great grandchildren.