Jonathan Poole
CEO
" Jonathan Poole serves as the Chief Executive Officer of F2OnSite "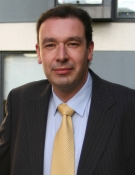 Jonathan Poole serves as the Chairman and CEO of F2Onsite he also assumes many of the technical aspects of our company. Jonathan, a native of London, England, brings a wide range of skills including experience in Engineering, Technology Services, Outsourcing and Software design and development.
Jonathan is responsible for the financial and service operations of the company and is a key person in the development and implementation of the company's strategic vision. He has a wide variety of skills within software development, mobile services and outsourcing disciplines, and has specialized in a number of senior roles within these vertical markets for over 25 years.
​
Currently his focus is on the F2O desktop/technical support solution and the launch of "Rural Shore" centers across the United States, which is designed to bring jobs 'back onshore' from other countries.
Prior to joining Prevail I.T. (now F2Onsite), he served as the Chief Executive Officer of Valtech S.A., a global publicly traded French software development firm. Jonathan created both onshore and offshore software development programs and oversaw the launch of one of the first "rural-shore" centers in the United States. In 2006 he received governmental approval and grant to establish near shore services in Europe which continues to grow successfully today.
In 2010, Jonathan joined Prevail IT (now F2Onsite) as an equity partner, and has an active role in growing the company globally. He holds a bachelors degree in engineering, a PhD and in 2005 was awarded chartered status of the prestigious British Computer Society (BCS).
A resident of Dallas TX Jonathan was quoted in a recent press release regarding the launch of F2OnSite stating; "We are committed to making our company the flagship of the industry! It comes down to two things, quality and excellence. Our team has to recognize that the perception of our company is built, one customer at a time, treating that customer just as we would want to be treated ourselves."