Anne Nordhaus-Bike
President
" Anne founded ANB Communications in 1993 as the parent company for her astrology, art, and writing projects. "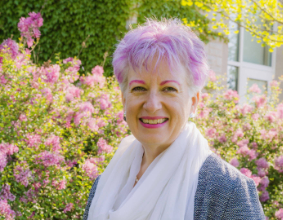 Anne Nordhaus-Bike is Astrologer Anne, a longtime professional astrologer and award-winning astrology journalist. She's also in demand as a speaker and is a frequent and popular guest on radio, where she takes calls from listeners and shares what's in the stars for every astrology sign. Her free monthly horoscopes cover every zodiac sign for devoted readers on her website, https://astrologeranne.com/.
She also is Artist Anne, a professional artist working primarily in watercolor. She has exhibited widely in group and solo shows and given many workshops and lectures on art and spirituality.
Anne founded ANB Communications in 1993 as the parent company for her astrology and other projects. She lives in Chicago, where she helped establish Gazette Chicago, a leading independent community newspaper, in 1983. A professional artist as well as an astrologer, she served as fine arts editor for two decades and has exhibited her paintings in numerous solo and group shows. In 2006, she launched Living in Harmony, a monthly astrology column that ran for two years and included her original watercolor paintings for all 12 zodiac signs.
The National Women's Hall of Fame honored her accomplishments, adding her to its Wall Of Fame in 1997. She also has been recognized with four Apex awards from Communications Concepts Inc. a Washington, DC-area communication and journalism think tank, and one award from the Illinois Woman's Press Association.