Samuel Adams
Co-Owner
" Samuel Adams is the co-owner of Blue Camel Innovations, makers of the popular My Secret Crush application. An Atlanta-native, Adams attended the University of Georgia. He speaks Mandarin and has lived on three continents. "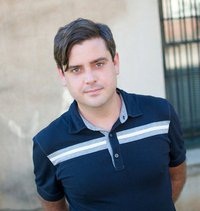 Samuel Adams, an Atlanta native, attended the University of Georgia. He speaks Mandarin Chinese, has lived on three continents and has been to over 30 countries.
At the age of 23, Adams took a job with a collections law firm whose clients include some of the biggest banks in the U.S. Starting as a collector, he was quickly promoted to the firm's sole Training Manager. In this role he taught new-hires the federal and state laws they had to abide by when collecting debts, how to get around those laws by exploiting their loopholes and how to wage effective psychological warfare against the debtor.
Unhappy in an industry he considered immoral, Adams moved to Asia at the age of 25. He spent the next decade there working as an English teacher in Taiwan, a journalist for the China Post , the Training Manager for Bo Le Associates, and finally as an entrepreneur in the Philippines' booming business process outsourcing sector. In Manila, Adams opened an online editing and proofreading service- the first of its kind- that was geared towards Chinese businesses. It would be the first of many entrepreneurial projects to come.
The worldwide recession brought Adams back to the U.S. in 2009 where he – in dire need of a paycheck- returned to the same law firm he left in disgust 10 years prior. It was at this time the seeds of his first book, The Debtor's Survival Guide, were planted.
Adams left the legal collections industry to focus on writing and entrepreneurship. He is currently seeking a publisher for his book about Asia, excerpts of which appear in samueladamsblog.com. He is also co-owner of Blue Camel Innovations, maker of the popular My Secret Crush application.