Caroline Wabara
CEO
" Caroline Wabara is a Nigerian digital marketing consultant with the stated purpose of helping and teaching Nigerian Entrepreneurs how to leverage the power of internet tools in launching their business online for sales, leads and publicity. "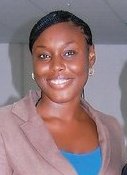 Caroline Wabara is a Nigerian digital marketing consultant, blogger and author of the best-selling ebook "Business Blogging For Success" amongst others.
She is the editor in chief of CarolineWabara.com, a digital marketing blog, with the stated purpose of teaching Nigerian Entrepreneurs how to leverage the power of internet tools in launching their business online for sales, leads and publicity.
She helps Nigerian small businesses to build their brand presence on Google, Mobile, Local and the Social media by creating business blogs that are mobile-friendly, location-based and SEO/Social Media Optimized.
This enables her clients to accomplish the following:
* Attract visitors to their blogs and websites (Traffic Generation).
* Interact with their audience (Blogging & Relationship-Building).
* Capture their contact details for follow-up via email or sms (Lead Capture).
* Convert them into life-time, paying customers (Customer Conversion & Sales).