Kaylin R. Staten, APR
CEO + Founder
" Kaylin R. Staten, APR, is an award-winning public relations practitioner, writer and CEO/founder of Hourglass Media in Huntington, WV. She uses her compassionate spirit and expertise to delve into the heart of clients' stories. "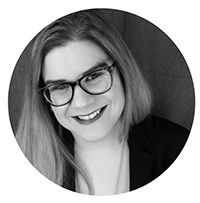 Kaylin R. Adkins-Staten, APR, is an award-winning public relations practitioner, writer and business owner based in Huntington, W.Va. Kaylin has 16 years of journalism and communications experience, spanning from her days as a high-school newspaper reporter to present day.
She is an alumna of the W. Page Pitt School of Journalism and Mass Communications at Marshall University and graduated with her B.A. in public relations in 2010. Kaylin owns Hourglass Media, which aims to unveil the hearts of stories through public relations, writing and educational opportunities. Previously, she worked in nonprofit public relations at United Way of the River Cities for five years. Kaylin currently serves as PRSA-River Cities Chapter Past President (2020) and has served as President (2018-2019), Treasurer (2017) and Secretary (2016). She also serves on the PRSA-East Central District Board. She released her first book, From Granny's Kitchen, in 2016. Her children's counting book, Plastic Cupcakes, was released in 2018. She is a board member for Dress for Success River Cities in Huntington, W.Va., and serves on several nonprofit planning committees.
During her career in PR and journalism, she has received several PRSA-WV Chapter Crystal Awards and PRSA-East Central District Diamond Awards, including the Best in WV award in 2011 for her Community Relations work for "National Prescription Drug Take Back Day." Her business' work on the statewide The Call WV campaign also garnered two Bronze Telly Awards in 2016. In 2010, Kaylin earned the Marvin L. Stone Award for Outstanding Journalist at Marshall University, an award given to only one student per year. She earned her Accreditation in Public Relations in October 2018 and became one of only approximately 4,000 accredited PR practitioners in the world and one of 11 in West Virginia.
In her spare time, Kaylin enjoys writing, reading, watching "Star Wars" movies, traveling and seeking adventures, spending time with her husband Jared and cat children Ilia Garnet and Meera and daydreaming of Paris.