Sinje Kathrin Lesemann
Creative Director
" Sinje Lesemann has worked in the high-end fashion industry for 15 years and is known for her dynamic attitude, creativity & innovative strategies. Her vision & sensibility to trends is coupled with extensive experience in marketing, sales and distribution "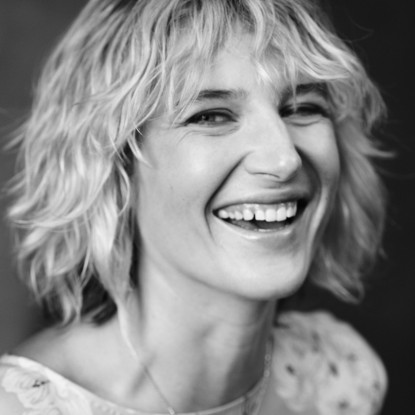 Quick Facts:
- Founded KOZA in 2011
- Founded Marketing Consultancy Sunchild Ltd in 2009
- Previously served as International Director of Sales at Clements Ribeiro and Wunderkind
- Holds a master's degree in Fashion Marketing from the Surrey Institute of Art and Design
Sinje Lesemann has worked in the high-end fashion industry for over 15 years and is well known for her dynamic attitude, innovative strategies and strong selling skills. Her vision and sensibility to consumer trends is coupled with extensive experience in marketing, sales and distribution. Having worked in every department (design, production, sales) of Internationally successful designer brands, she is adept in problem solving, day-to-day management and long-term strategic planning.
Sinje Lesemann founded KOZA after a memorable trip to Rajasthan, India. While traveling, Sinje was confronted by the many obstacles that face the modern day traveler, including the ultimate hurdle: how to be organized and stylish while on the go. Ideas of function, form and beauty consumed Sinje's thoughts and eventually translated into a collection of designer handbags and travel bags called KOZA.
Currently living in Brooklyn, Sinje was born in Hamburg, Germany. She began exploring the arts at a young age, apprenticing with a goldsmith as a teenager. She moved to the United States to attend the University of Rhode Island, where she graduated Cum Laude with a degree in Textiles, Fashion Merchandising and Design and additional studies in fine arts and costume design, following which she earned an MA in Fashion Marketing at The Surrey Institute of Art and Design. After graduating, she worked with UK designer, Clements Ribeiro, in due course becoming Commercial Director. In 2007, Sinje joined California-based fashion company, Fashionglue, as a marketing consultant. In 2009, Sinje Founded Sunchild Ltd a marketing consultancy that specializes in strategic planning and organisational structuring of small to medium size designer brands. All the while, she was planning the launch of KOZA in 2011, combining her expertise in fashion, design, and marketing with her travel experiences.
Specialties: branding and identity, positioning, marketing and promotion, competitive analysis, sales, distribution, hotel retail