Darryl Swann
COO & Creative Director
" Audio & Game Producer. Thirty-one year music industry veteran; Grammy Award recipient. 3D-Audio software Wwise, Fmod, Oculus Audio SDK, and UE4's audio engine. "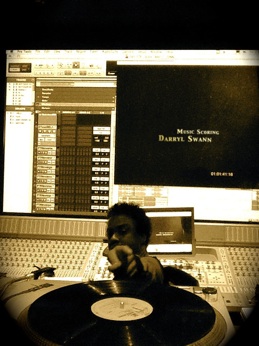 Darryl ventured out to Los Angeles in 1986 as lead guitarist with his hair-metal band "Haven", then soon began working as a 2nd engineer at Silverlake Recording Studios. His first session was with famed production team LA and Babyface as they produced the hit song "Rock Steady" for R&B vocal group The Whispers. Within a month, he became night manager and first engineer at Silverlake Recording Studios, literally living at the studio while conducting round-the-clock sessions and learning the Trident Series 80B console.
After a break to earn his bachelor's degree from UCLA, Darryl returned to engineering full time at Straight Arrow Studios in Van Nuys, where he wrote, produced, and engineered his first major label release with Motown group Pretty in Pink (featuring Chaka Kahn's daughter Melini Kahn ).
Then, Darryl's own group, Cultural Revolution, signed with Sony/Epic/New Deal Records and released the single "Nite & Day" on the soundtrack to the John Singleton-directed film Poetic Justice.
In 1997, Darryl began writing and producing with Macy Gray, resulting in the multi-platinum album Macy Gray "On How Life Is" as well as producing her follow-up album, "The Id". He also had the pleasure of working side by side with producer Rick Rubin who acted as Executive Producer on this record. Darryl has also worked closely in the past with Will-I-Am and the Black-Eyed-Peas, among many others.
Darryl composed the score for the feature film "From The Rough" featuring actors Michael Clarke Duncan, Tom Felton of Harry Potter fame, and Taraji P. Henson. He also was brought on board with Lionsgate Entertainment to score film and TV material for actor/comedian Kevin Hart.
2015, Darryl signed a world-wide book publishing deal with Hal Leonard Publishing International. First edition of "Essential Guide to Song-writing, Producing, and Recording" was released January, 2016. Darryl is also a partner in a Mixed-Reality technology venture developing music-based VR content, and 3D-Audio technology.