Philippe Hilger
Owner
" A French Engineer, post-graduated in Information Systems and Executive MBA, Philippe spent 10 years in the international Telecommunication industry, then founded several businesses in Brazil. In 2011, Philippe started MusXpand, a Canadian music business. "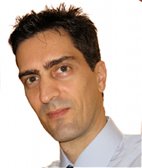 Philippe Hilger graduated in 1992 from ESIGELEC Engineering School in Rouen, France, with a major in Telecommunications and Networks. He completed his education with a Mastère Spécialisé in Information Systems Management at ESCP, Paris (formerly Sup de Co) in 1993.
From 1994 to 1997, Philippe worked with CEGEDIM S.A. [CGM.PA] as a Network Administrator and providing direct support to the company's thousands and growing european customers. Philippe also acted as the second to the Telecom Director.
Looking to expand his international career, Philippe Hilger was hired as the Network Administrator in SITA's Operation Department, in 1997, working closely with Center of Excellence's Network Engineers to provide them efficient tools to support the 30,000+ network of routers worldwide.
In 1999, Philippe moves to Atlanta, Georgia, USA to take the lead of the newly created Network Administration and Tools team until 2001, within Equant NV [EQU.PA], the recently formed commercial division of SITA.
In 2001, Mr. Hilger transfers to the Engineering Department in Montreal, in charge of the Network Security, as a Senior Development Engineer, and leads a whole perimetric defense project for the company.
After several structural reorganisations within Equant, Philippe leaves the company to move to Brazil, where he decides to switch career as a self-entrepreneur and starts several projects during the next 5 years: digital medias edition, on-demand digital printing, an electronic remote control device for the railroad modelling hobbyists.
In 2005, feeling a lack of knowledge in the Business area, Philippe qualifies for an Executive MBA at Coppead from the Federal University of Rio de Janeiro, and successfully graduates. He will then start Skloogs Consulting, an IT consultancy and e-commerce business based in Rio, that will culminate at offering 8,000 product references from the 5 biggest brazilian distributors of technology, and become an official partner of Microsoft and Linksys (a Cisco division).
At the end of 2010, Philippe decides to start another initiative in the Media industry, and starts developing a project for independent artists after he realizes most artists can't make it in today's Music Business.
After his move to Vancouver, BC, Canada at the beginning of 2011, Philippe officially forms MusXpand in March 2011, and releases a beta-version of his project during summer 2011. An official version is launched in November of the same year.
Currently, Philippe is working on an updated version of MusXpand, attempting to reach a wider audience by reviewing its subscription formulas.