Susan Traverso
President
" Susan Traverso, Ph.D., is Thiel College's 20th president and the northwest Pennsylvania college's first female president. President Traverso previously served as the provost and senior vice president at Elizabethtown College. "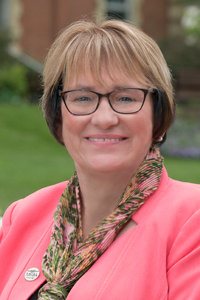 Susan Traverso, Ph.D., is Thiel College's 20th president and the northwest Pennsylvania college's first female president. President Traverso comes to Thiel from Elizabethtown College (Elizabethtown, Pa.), where she served as the provost and senior vice president.
Traverso earned her bachelor's degree in history and communication from Simmons College (Boston, Mass.), and doctoral and master's degrees in history from the University of Wisconsin-Madison.
Previous roles have included dean of the College of Arts & Sciences and associate professor of history at the University of Redlands (Redlands, Calif.); director of the Associated New American Colleges (ANAC) Academy; and associate professor and chair of history at North Central College (Naperville, Ill.). Additionally, Traverso served the U.S. Peace Corps in a variety of roles—including education coordinator and director—in locales such as Morocco, Yemen and Bulgaria.
A prolific speaker on academic leadership issues, Traverso has presented to the Council of Independent Colleges, American Academic Leadership Institute, Middle States Commission on Higher Education and the Network for Vocation in Higher Education. An American social policy and women's history scholar, she is also the author of "Welfare Politics in Boston."